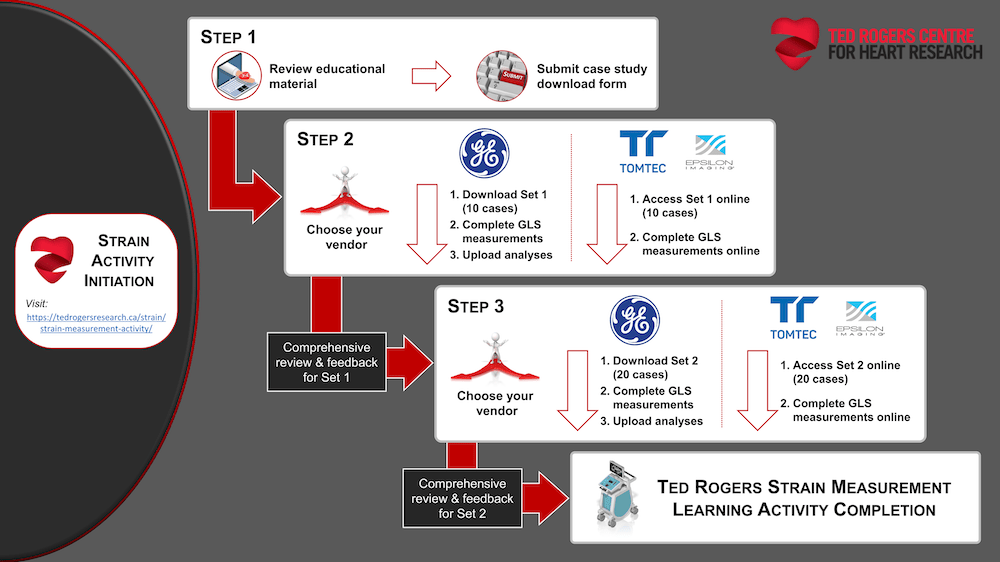 Echocardiography is a valuable cardiovascular diagnostic test. It is an important, non-invasive clinical tool to obtain critical information about cardiac structure and function.
New imaging techniques, such as strain echocardiography, enable detailed evaluation that provides highly comprehensive information on left ventricular myocardial function. In cancer patients, peak systolic global longitudinal strain (GLS) measurements help clinicians understand what changes are happening to a patient's heart muscle (myocardium) before a significant decline in left ventricular function or heart failure during and after cancer therapy.
On this site, we provide educational materials to help those who wish to start performing GLS measurements during routine echocardiography. We include a protocol that outlines techniques for image acquisition, optimization and post-processing analysis of the data.
After reviewing the supporting material, if you are comfortable with the concepts of strain imaging and post processing, 10 case studies are available for download or online analysis depending on the vendor you chose to work with based on your clinical needs and setup. These cases are real life cases from patients in our cardio-oncology program. These patients were followed with echocardiography and cardiac MRI.  Furthermore all patients have had long term follow-up. The 10 cases include patients who did and did not develop a significant change in GLS (also confirmed by cardiac MRI) during their cancer therapy. The cases also include images obtained both at baseline and at the time of a significant change in GLS. Therefore, analysing these cases provides the user the ability to measure strain on real life cases where the outcomes are verified using an external reference standard and clinical follow-up. 
Uniquely and most importantly, this program provides the opportunity for the user to send their analysis (both actual images and the GLS values) back to us for comparison with our measurements. We will also let you know whether based on your measurements the determination of cardiotoxicity status (i.e. present or absence) would be consistent with our findings. Furthermore, we will provide targeted feedback if you send us your images. This provides an opportunity to not only compare your measurement values to that of ours, but also to identify potential opportunities for improvement of your measurement process / technique.
Once the first set of images are returned to us we will provide you comprehensive feedback. This will be followed by 20 additional cases (again verified by cardiac MRI) which would be available to you for re-analyses. Once this data is provided back to us, we will again provide you back personalized feedback and also illustrate whether there has been an improvement in the agreement of your measurements with that of ours. Hopefully with this iterative process you would feel more confident in performing strain measurements in your laboratories.
Please note that this is a learning opportunity and performing these analyses does not "certify" you to perform strain imaging. Finally, we also ask for your permission to use the results of the first and second measurements anonymously to determine whether this learning process is effective. Our findings may also potentially be used for academic publications or to inform other educational endeavours using only aggregate data.