Comprehensive Program in Heart Function
By carefully considering – and improving – the journey for each person with heart failure, we can improve their quality of life, optimize their treatment and outcomes, and avoid unnecessary hospitalizations.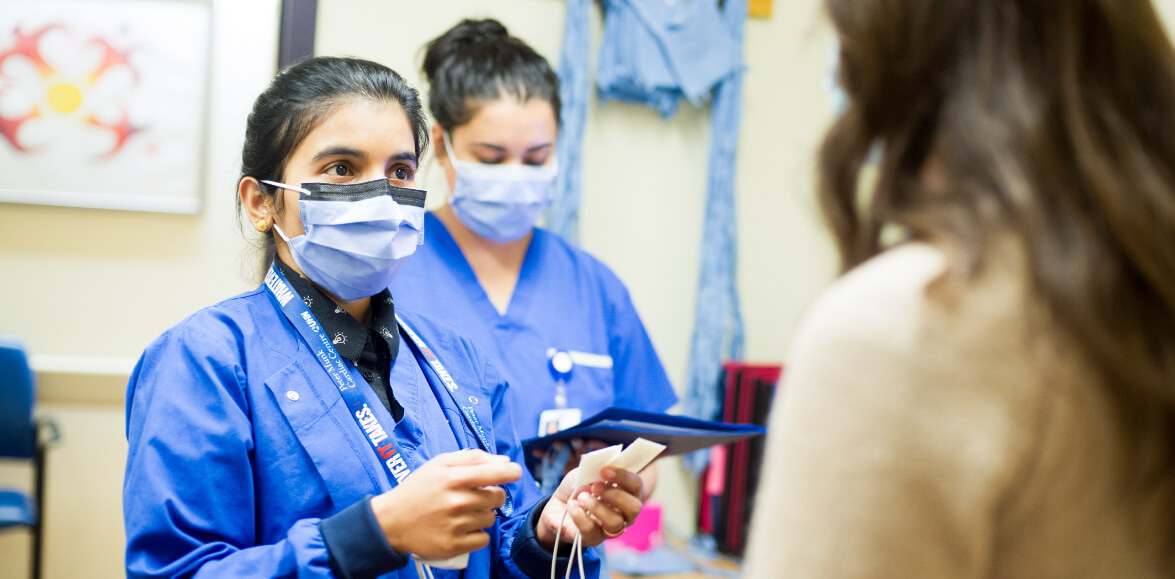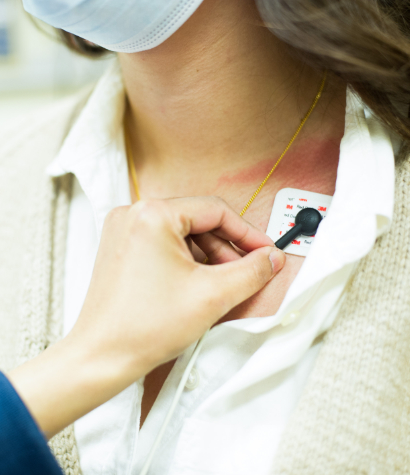 At Peter Munk Cardiac Centre, we are Canada's leading centre of excellence in heart function and one of the world's largest. Our team-based model of care brings patients, caregivers and their health-care teams together to enable equitable access to high-quality heart failure care and advanced treatment.
The Comprehensive Program is focused on bolstering clinical outcomes, patient education, quality of life, research and education. Our inpatient and outpatient clinical services also serve as a key referral and resource for many area hospitals.
Clinical expertise and patient care are enhanced by our quality and outcomes program, data science initiatives, digital health technologies, cardiotoxicity program, and health technology assessment efforts.
New clinics to guide each patient's journey
Inside our RAPID clinic, nurse practitioners assess and adjust each patient's care plan as needed. It is set up to manage high-risk patients with heart failure after a ER visit or hospital discharge, and helps transition patients to care with family doctors and cardiologists. Through the RAPID clinic, we are able to identify deteriorating symptoms earlier, and we have reduced one-week readmissions for worsening HF.
Our team in the Richard A.G. Robinson Heart Function Day Unit provides specialized therapy and interventions in an outpatient setting. This agile unit, in which critical IV therapies can be delivered quickly, has dropped ER visits and admissions as well.
Both units are part of an integrated care pathway so that people with heart failure have seamless follow-up care tied to their needs.
Specialized nursing professors lead programs
Ted Rogers Nursing Professors continue to spearhead initiatives to better support patients with heart failure. They are the engines that drive the use of digital health innovations, ensure person-centred care in sensitive times such as end-of-life, and empower patients with greater health literacy.
Our clinical nursing professors specialize in heart failure, and focus on quality improvement and education. They ensure that the clinical, education, and quality improvement goals of the program are on target and that patients with heart failure transition smoothly through the medical system.
They also lead groundbreaking advances in care, such as remote management, a virtual titration clinic to get patients on the right dosage quickly, a home IV inotrope program for palliative patients, standardizing ICD deactivations, and the first use of CardioMEMS – a wireless device implanted in patients through which they can monitor status remotely.
Our Nursing Research Professor advances many strategic priorities that focus on patient engagement, advanced care planning, treatment decisions, and quality improvement. One area of focus was implementing "Patient Reported Outcomes Measurement" (PROMS) during visits to clinic, a valuable element in better heart failure outcomes.
Pursuing accessible heart failure care
We have refined virtual visit platforms with secure messaging designed to be fully accessible to patients who can't attend an in-clinic assessment, education session, or medication titration – thus extending the reach and scale of our digital health efforts.
We are working to expand Medly's reach by helping hospitals, community clinics and primary care teams deploy this model of care to reach more vulnerable populations. We also strive to ensure care is delivered in a culturally relevant way – adapting language to align with unique cultural contexts for a respectful, seamless user experience.
Meanwhile, our AI and statistical learning efforts study physiologic data, medication, lab results and real-time patient-reported quality of life data to transform care regardless of ethnicity, accessibility, distance or income disparity. One example is the TRANSFORM HF program's unique, evolving partnership with Weeneebayko Area Health Authority in Northern Ontario.
Engaging people with lived experience
A key tenet of our program, as well as a foundational priority of the Ted Rogers Centre, is collaborating on all manner of care directly with those who know heart failure best.
Our teams prioritize the engagement of people living with heart failure – patients, caregivers and family members – whose voices and perspectives are essential to our successes. We also make sure they are fully knowledgeable, so they can be active participants in their own care.
Our Heart Hub is a source of expert-curated information on heart failure. Through it, we also invite patients to be part of our research efforts, for which they play a central role.