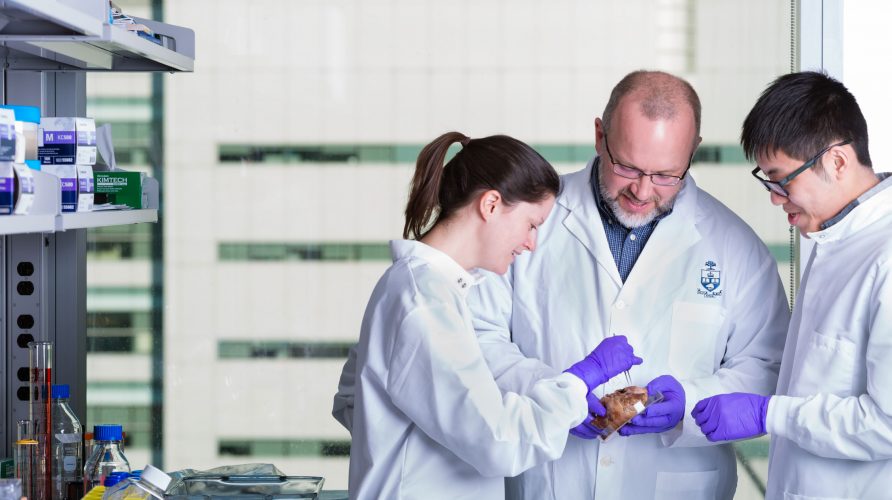 Ted Rogers Centre Scientific Lead Craig Simmons has been inducted as a fellow of the American Institute for Medical and Biological Engineering (AIMBE), in recognition of the U of T engineer's contributions to heart valve disease research and methodologies to create mechanically dynamic microtissue models.
Election into the AIMBE College of Fellows is among the highest distinction in the profession, comprised only of the top two per cent of its membership from around the world.
Simmons leads the Ted Rogers Centre's Translational Biology and Engineering Program, which targets regenerative medicine and tissue engineering as it relates to heart failure. Here, he leads nine groups comprised of more than 100 engineering and medicine researchers to collaborate with health-care experts from the Hospital for Sick Children and the University Health Network to transform the future of heart health for Canadians through a combination of research, education and clinical care.
History of leadership
He is recognized as the U of T Distinguished Professor of Mechanobiology in the Department of Mechanical & Industrial Engineering (MIE) and the Institute of Biomaterials & Biomedical Engineering (IBBME). He is internationally renowned for his pioneering achievements in identifying critical roles of biomechanical forces in regulating heart valve disease, and for the creation of microfluidic tools that improve drug discovery by simulating biomechanical forces in the body.
Professor Simmons' numerous awards and accolades include the 2017 Ontario Professional Engineers Awards' Engineering Medal for Research and Development, the University of Toronto's Northrop Frye Award for achievements in integrating teaching and research, and U of T Engineering's Faculty Teaching Award. He is a fellow of the Canadian Society for Mechanical Engineering and was named the Canada Research Chair in Mechanobiology in 2006.
"Craig's research contributions and his leadership in advancing the field have made an impact on Canadians facing heart disease and those working on addressing it," said Warren Chan, director of IBBME.
A formal induction ceremony was held April 9th at the AIMBE Annual Meeting at the National Academy of Sciences in Washington, DC. Simmons was one of 156 colleagues to make up the distinguished AIMBE College of Fellows Class of 2018.
******
This story has been edited from this original piece by Luke Ng, U of T IBBME
(Photo at top: Neil Ta)