Ted Rogers Centre 2022 Trainee Day
This special event integrates a diverse community of clinical and basic science trainees throughout the Ted Rogers Centre for Heart Research ecosystem.
In 2022, we had over 100 attendees come together to celebrate the hard work and accomplishments of our trainees, fellows, and staff – the heart of our Centre.
The day featured keynote presentations from Drs. Mjaye Mazwi and Chris McIntosh, a career workshop with brilliant panelists, a poster competition, and a networking session to close the event.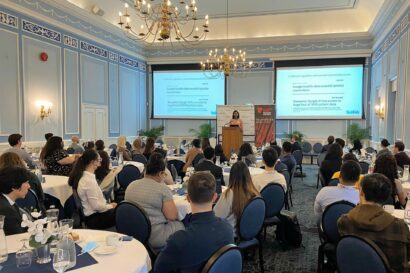 2022 Poster Competition
Winners
David Leong (UHN) – Prediction of outcomes in patients with cardiogenic shock using machine learning (PI: Phyllis Billia)
Esra Erkut (UofT) – Identification of a conserved TBX20 enhancer with mutations in a CHD patient (PI: Ian Scott)
Jonah Burke-Kleinman (UofT) – Targeting N-Cadherin for smooth muscle cell-selective inhibition of migration and restenosis (PI: Michelle Bendeck)
Stephanie Benjamin (SickKids) – Developing an autoantibody profile to detect Congenital Heart Block and investigate disease pathophysiology (PI: Robert Hamilton)
Runner ups
Anat Usatinsky (UofT) – Wireless Implants for Continuous Hemodynamic Spectroscopy (PI: Daniel Franklin)
Bahram Mirani (UofT) – Engineering Heart Valve Tissues with Biomimetic Biaxial Mechanical Properties Using Melt Electrowriting (PI: Craig Simmons)
Katheryn Rothenberg (UofT) – Rap1 coordinates cell-cell adhesion and cytoskeletal reorganization to drive collective cell migration during rapid wound healing (PI: Rodrigo Fernandez-Gonzalez)
Tao Wang (UHN) – Loss of stem cell antigen-1 worsens vessel remodeling (PI: Mansoor Husain)