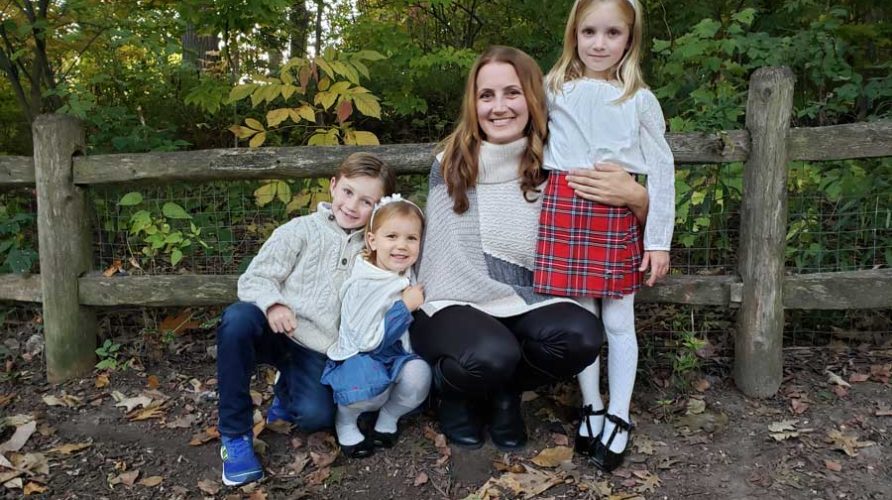 When Katie Shea went to be screened at the Heart Function Clinic at the Peter Munk Cardiac Centre in the fall of 2018, she knew that, due to her family history, she was at risk of developing dilated cardiomyopathy (DCM). To help her clinicians, she brought a colour-coded family tree.
"I had highlighted in red my relatives who had been diagnosed with cardiomyopathy," Katie says. "I didn't anticipate any findings in my tests as all previous diagnoses had been made after the age of 50."
There, at the age of 41, Katie became the first of her generation to be diagnosed with DCM, which can cause heart failure.
"I was really tired at the time, but I'm the mother of three young children," she says. "It was a huge shock. Everything changed that day."
As a nutritionist, retired dancer, non-smoker and non-drinker, Katie lived a healthy lifestyle. The cause of her heart disease seemed locked in her DNA. In 1995, Katie's grandmother's brother died of DCM in his early 60s. In 2000, her grandfather died suddenly in his early 70s – an autopsy suggested it was cardiomyopathy.
In 2004, Katie's father was screened and diagnosed with DCM at age 52; five years later, he nearly died of sudden cardiac arrest at his workplace. Katie's father is the eldest of seven siblings, among whom a brother and identical twin sisters have also been diagnosed. Two of Katie's fathers first cousins also have DCM.
Even one relative sharing her diagnosis would be enough to prompt a genetic exploration in her family—Katie's had many.
Finding answers at the Cardiac Genome Clinic
Katie underwent standard clinical genetic testing for 50 genes known to be related to heart disease, all of which were normal—unsurprising, as the diagnostic rate for these tests is only between 30 and 50 per cent.
Katie and her siblings were all "gene-elusive." says Dr. Heather Ross, Ted Rogers Centre Scientific Lead at UHN and Head of Cardiology at PMCC. Dr. Ross connected Katie's family to the Centre's Cardiac Genome Clinic at SickKids – a leading program in Canada that uses whole genome sequencing (WGS) to hunt for clues to heart failure.
"This hypothesis-free method allows us to take a deep dive into the genome, searching for any possible genetic variant that could be causing disease," says Eriskay Liston, a Ted Rogers Centre genetic counsellor who first brought Katie into the program.
Katie has three young children of her own and seven more nieces and nephews, so with all signs pointing to a hereditary cause of the disease, she was keen to join the Cardiac Genome Clinic to find some answers.
"Knowledge is power," says Katie. "I hope that we identify the genetic cause and determine if any of our children carry that gene, long before they are ever diagnosed. It's an opportunity to use my genetic profile, and that of several first-degree relatives, to be proactive and to provide new information to researchers studying dilated cardiomyopathy."
All ten of the Shea children are now being screened by SickKids cardiologists as a proactive measure while the genomic team searches for answers. Katie also contributes tissue samples to the PMCC Cardiovascular Biobank and her children's saliva samples to the SickKids Cardiovascular Biobank – both of which are supported by the Ted Rogers Centre. (Katie is also among the first 100 patients to be monitored with Medly, the Centre's remote patient management system.)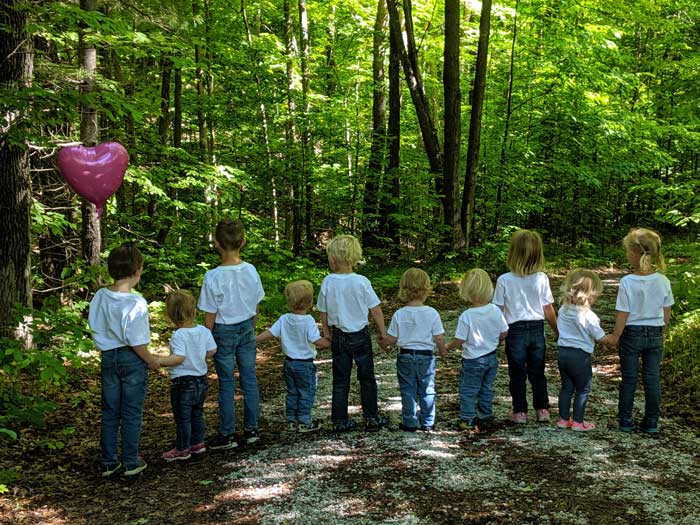 Determining the optimal drugs for each patient
WGS can also provide other information relevant to someone's overall health, including "pharmacogenomics"—how genes affect a person's response to drugs. By studying our genomic makeup, researchers can discover genetic variants that determine what medications, including dosage, are safest and most effective for each person.
"This is critical to precision medicine because if someone is at risk of a heart issue in the future, we can find out today what the right therapy will be," says Eriskay. "This in turn helps avoids possibly catastrophic side effects while making that patient's life and treatment easier."
To this end, the Cardiac Genome Clinic team explores each person's genome, hunting for specific genes that are known to influence the speed at which the body metabolizes certain medications. This technology doesn't yet exist in Canadian clinics, but those in the clinic's research program benefit now from this innovation. About 95 per cent of all families in the program have had pharmacogenetic findings returned, with direct implications on their current and future medications.
For Katie, the team found a variant that increases the function of a metabolizing enzyme involved in activating the antiplatelet drug, clopidogrel. This drug can be effective, if needed, but with this variant, Katie would be at a greater risk of bleeding. This same enzyme also helps breaks down other medications, and since she is a fast metabolizer, standard doses may be ineffective. Such intel will help define a precision strategy for her future care.
No families left behind
Eriskay says that, because someone's WGS data don't change, it is always possible to search for new answers.
"We can easily re-interrogate a person's data every few months should we learn more about the genomic links to heart function," she says. "Whole genome sequencing allows us to go back and look again, with little to no burden on the families. For Katie, we can potentially find a new diagnosis the next time we look. Within a year, the story could change from not having found any clues to pinpointing the responsible gene."
Eriskay notes that, while it take resources to re-interrogate data, the Cardiac Genome Clinic is funded for 10 years by the Ted Rogers Centre, meaning that the 300 families sequenced thus far have longer windows of opportunity. Those with a strong family history with DCM such as the Sheas will be reassessed more regularly because of the ground-breaking potential to identify a new gene that causes the condition..
It is expected that, within five years, WGS will be a routine aspect of clinic care. The Cardiac Genome Clinic is helping to pave that road by demonstrating the value of this technology, and how to incorporate it safely and strategically into patient care.
From diagnosis to determination
For Katie, the shock and sadness of her diagnosis have given way to gratitude and empowerment. "I am so grateful for the care that my family and I have received – everyone at the hospitals has supported and protected us. You can never repay that."
Katie is now active in the heart failure community, volunteering as a PMCC patient partner, and participating in projects she hopes will generate better outcomes for others with heart failure. She has raised over $30,000 through her Cardiomyopathy Research Fund to foster earlier diagnoses, better treatments, and ultimately a cure for the disease that has had such a significant impact on her family.