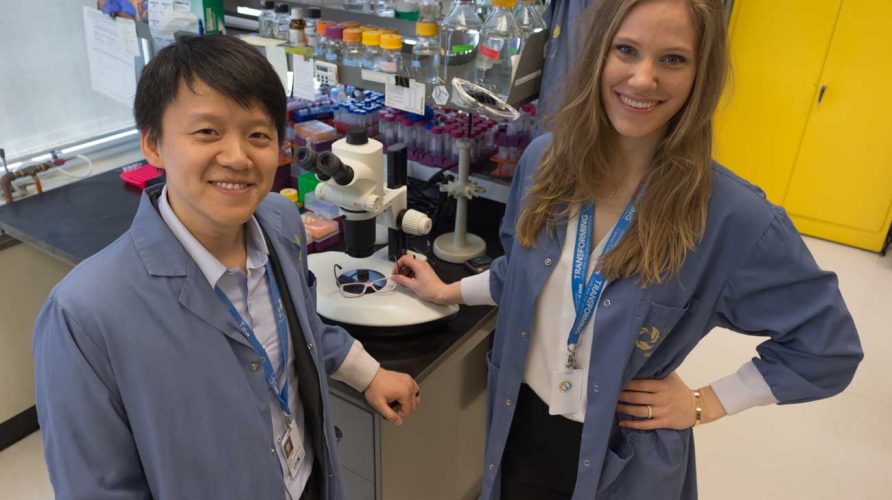 Proteins function properly in a healthy body but when disease is present, they can fold into the wrong shape. These misfolding proteins can clump together and form deposits in organs including – in the case of one disease – the heart.
Amyloid cardiomyopathy is an under-recognized cause of heart failure caused by misfolding amyloid proteins. One type is called immunoglobulin light chain (AL) amyloidosis, a lethal form of heart disease for which there is no cure.
"There is a desperate and critical need for therapies for AL amyloid cardiomyopathy," says Natalie Galant, a Ted Rogers Centre researcher. She is co-founder of Paradox Immunotheranostics, a company poised to fill that unmet need.
A new technology to clear deposits in the heart
Galant has teamed with fellow University Health Network researcher Yulong Sun to design brand new "immunotheranostic" technologies specifically for AL amyloidosis. They are among the first group of entrepreneurs in our ECHO program created by the Centre's Translational Biology and Engineering Program.
They have harnessed the power of the immune system by designing antibodies that, instead of naturally targeting viruses, bacteria and other foreign invaders, target the misfolded proteins. Their approach would infuse these specialized synthetic antibodies into the bloodstream, where they would head straight to the heart and help clear away any dangerous amyloid deposits.
"These are pathology-specific antibodies that will only go after the misfolded proteins that cause AL amyloidosis," says Yulong. "We are harnessing the power of the body's immune system, which will recognize our antibodies as its own."
10 years ahead of the field
Their platform technology to design immunotheranostic antibodies, now proven successful, is the most innovative therapeutic approach to protein misfolding diseases in the world. "Experts have told us we are ten years ahead of the field," Natalie says.
For this often hidden cause of heart failure, there is nothing that exists right now to clear those amyloid deposits. There are therapies that target the production facilities that secrete the light chain proteins – but nothing that sweeps the misfolded clumps out of the heart.
"We've created very specific antibodies," Yulong says. "Our precision algorithm makes them targeted for misfolded amyloid proteins, so they will not react with anything else in the immune system."
What's important is that their antibodies could be used one day in combination with other therapies for a broad immunotherapy approach because they will not interfere with what other drugs are doing.
"For complex treatment strategies for difficult diseases, immunotherapies are the way of the future," Natalie says.
Patients 'desperate for treatment'
With Toronto fast becoming a pharmaceutical and innovative hub, creating the necessary pipelines for discovery, Natalie and Yulong say their platform technology is well-suited to be developed locally. They are actively seeking investors and partners to go on this venture with them.
Their technology has a wide degree of potential applications in addition to therapy – most notably, medical imaging where tracking these antibodies could start to yield a picture of how diseases first develop.
They have also done primary research – speaking to patients. Those they've talked to say it's so difficult to have AL amyloidosis because the lack of answers leaves them in the dark, with no direction forward. Meanwhile, because it is under-recognized and often misdiagnosed, there is a need for greater awareness among clinicians – meaning that patients often must take the role of advocates.
"We have heard from patients who are desperate for treatment," Natalie says, "and we're determined to deliver."
Top photo: Yulon Sun, Natalie Galant