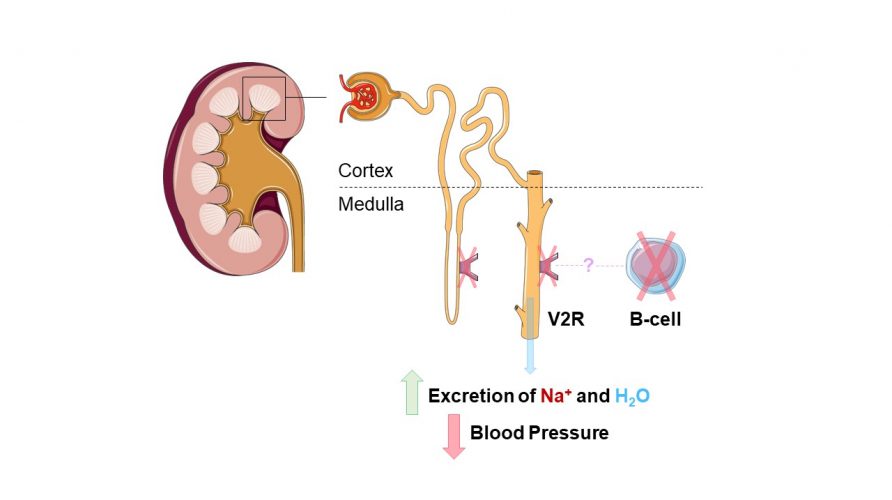 For all we know about the consequences of high blood pressure, we know very little about its origins. In 95% of all cases of hypertension, the cause is unidentifiable. As such, the door is wide-open for researchers to try and uncover the underlying mechanisms that contribute to the increased levels of blood pressure that affect so many adults.
In the lab of Dr. Mansoor Husain, executive director of the Ted Rogers Centre, researchers have for years studied c-Myb, a DNA-binding protein. They found that this protein is heavily involved in the biology of vascular smooth muscle cells – the cells that make up the majority of our artery walls. Based on this knowledge, they wondered if the function of c-Myb might also regulate blood pressure.
Their theory led to a significant new study published recently in Hypertension (one recommended in F1000 Prime) that tied lower c-Myb activity to lower blood pressure. After systematically examining systems involved in blood pressure regulation, they identified the one place where the effect was occurring: the kidneys.
Then their attention turned to the immune system.
First study to link B-cells to kidney functions
Luke Dingwell, first author on the paper, says that mice with reduced c-Myb activity excreted more salt and water in their urine than normal mice – which would underlie their low blood pressure. The research team discovered that, when it came to the immune system, these mutant mice also had reduced B-cells in the blood and in the kidneys, and then found similar results in other mice with a genetic absence of normal B-cells.
"This is very interesting as most studies have focused on other immune cells with respect to the regulation of blood pressure," Luke says. "What we found is that a reduced number of B-cells lowers blood pressure levels and increases urine output by the kidneys. We suggest that this is due to decreased vasopressin receptor 2, a kidney protein that regulates salt and water handling."
This is the first study to implicate B-cells in the regulation of vasopressin receptor 2 (V2R) – and is in fact the first study to link B-cells to kidney functions. This adds to the mounting evidence that kidney dysfunction, much like in type 2 diabetes, can directly impact the cardiovascular system.
To better understand how B-cells affect V2R, the Husain lab is now using fine-tuned experiments to dig deeper for answers that could yield new approaches to treat hypertension.
'A lot of papers end here'
So now we know that B-cells affect how the kidney handles salt and water – vital considerations when it comes to heart failure – and that this affects blood pressure. Researchers now seek to identify specific immune cell types, or molecules that these cells release, which could be specific targets for future therapies.
"A lot of papers unfortunately end here," Luke says. "We aim to press on and conclusively find the molecule responsible. The ultimate goal is to translate our discovery into something that is clinically useful, because many patients still have uncontrolled blood pressure, despite a wide variety of therapies."
This research, built on collaboration with multiple labs across the Ted Rogers Centre, is pointed in the direction of using immunotherapy to lower blood pressure. Could we use a therapy that reduces B-cell number to help someone whose high blood pressure is not responding well to therapy?
"On one hand, such a therapy could deplete your immunity," Luke says. "On the other hand, if hypertension is putting you at risk of heart failure, that would outweigh the risks."