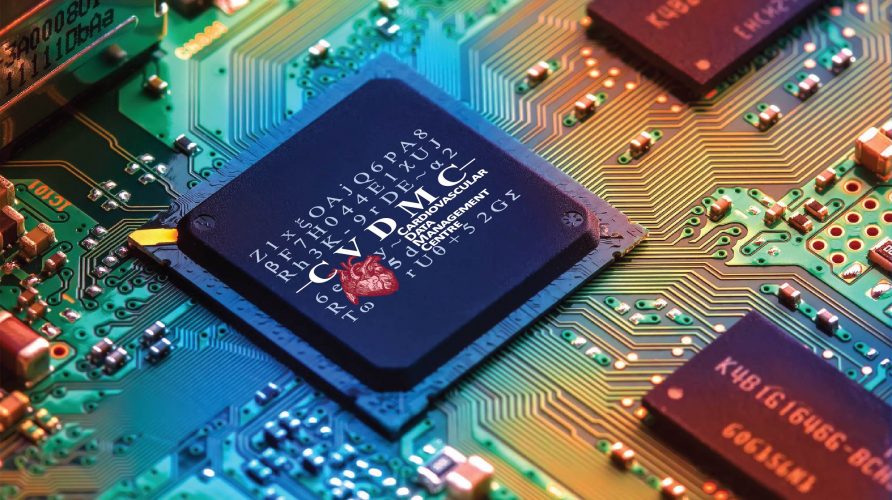 By Isabelle Docto, Ted Rogers Centre Communications
Imagine a health-care system where all of a patient's relevant information exists in one location, readily accessible to tailor individual treatment using predictive analytics.
Cedric Manlhiot, a Ted Rogers Centre for Heart Research member and director of the Cardiovascular Data Management Centre (a joint SickKids and UHN initiative) is bringing that to reality.
His research focuses on translating big data and genetics into something clinics can incorporate into patient care. "Right now, that data stays in the lab or stays in computer simulations and never makes it to the patient," said Manlhiot.
A rare technology
In order to generate risk scores and predictions for specific patients, Manlhiot says physicians often have to manually input patient data on a website or program that calculates predictions which can then be used to individualize care. But this time-consuming process isn't conducive to a busy clinic environment.
Co-leading the Ted Rogers Centre's Computational Biomedicine and Clinical Mobility Program, Manlhiot oversees the development of a new technological platform – one that absorbs, processes, stores, and analyzes enormous amounts of clinical, physiological, genomic, environmental and remote monitoring data in one cloud.
Thus, in real time, clinicians can use the data to determine each patient's short- and long-term prognosis and optimal treatment path. In this way, the platform will improve individual outcomes for patients.
"This type of technology is quite rare in the health-care system, particularly outside of oncology, and ours will be one of the first to be designed to be actively studied while being implemented and used," said Manlhiot.
Tapping the predictive capabilities of technology
The technology will not only predict prognosis and treatments, but could also predict who might be at risk for heart failure. To do this, Manlhiot's group will be using data from 500,000 people enrolled in a UK biobank to model the risk of developing heart failure over time. Through this, they will identify risk factors that can be addressed years before early signs of heart failure, thus preempting the disease.
Ultimately, the technology will be used to transform an outdated, paper-based system to a more accessible and integrated digital platform able to gather and utilize all relevant data whether it's coming from an MRI, an ICU or the patient's own smartphone. Manlhiot says health care lags behind other industries like banking and advertising in the use of data for predictive modelling and decision support.
"I think what's really important here is that we're trying to get medicine to embark on that journey," Manlhiot said. "Because until we do, many of the best computer scientists in the world will continue to be recruited to develop algorithms that identify cat videos on the internet rather than work for the advancement of medicine."
The program is currently focusing on completing technology development and platform deployment within the next two years. They hope to have a fully functional platform, including data aggregated from the Greater Toronto Area within the next five years.