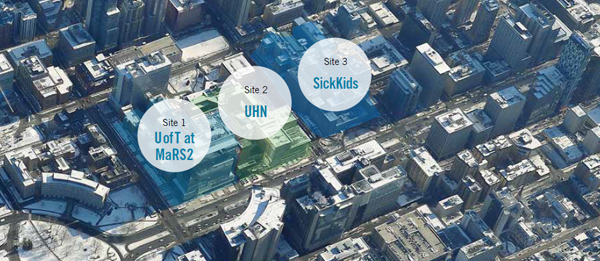 Based in Toronto and born from the largest private health-care gift in Canadian history, the Ted Rogers Centre for Heart Research's core strength are its three world-renowned institutional partners: The Hospital for Sick Children (SickKids), University Health Network (UHN), and the University of Toronto (U of T). There, interconnected programs aim to address heart failure across the lifespan:
Cardiac Precision Medicine Program and Cardiac Genome Clinic applies novel biology-driven approaches to finding new therapies for childhood onset heart failure and will support one-of-a-kind adult and pediatric genome clinics intended to decipher the genetic basis of heart failure in patients with congenital heart disease and cardiomyopathy.
Integrated Program for Excellence in Heart Function will optimize heart failure outcomes, improve quality of life and reduce readmission to hospital. The goal: reduce re-hospitalizations by 50% in 10 years. It includes the Comprehensive Program in Heart Function, the Cardiotoxicity Prevention Program, and revolutionary work in machine learning and outcomes research that will transform patient care.
Translational Biology and Engineering Program examines how genes, molecules and cells function during cardiovascular development and disease. Interwoven labs are investigating three specific research priorities: (1) the repair and regeneration of heart tissue; (2) the mechanisms of fibrosis; and (3) co-morbidities of heart failure (e.g. hypertension, diabetes, autoimmune drug toxicity).
The Centre is unique and ambitious – a fitting legacy for its namesake, a man known for visionary leadership and creativity, and a Canadian family synonymous with innovation and progress.
History
The Ted Rogers Centre for Heart Research launched in November 2014 formed, enabled by an unprecedented gift of $130 million from the Rogers family and jointly conceived by SickKids, UHN and U of T.
"There are always lots of opportunities if you persevere and aren't afraid to take chances," Ted Rogers once said.
Organization Chart
To fulfill the vision held by our Honorary Patron, Loretta Rogers, we are governed by a Presidents' Steering Committee and advised by a Scientific Advisory Panel.