TORONTO, Dec. 12, 2016 – The Ted Rogers Centre for Heart Research is thrilled with today's announcement of a massive new investment in regenerative medicine here in what is quickly becoming a global hub for stem cell science.
Bayer and Versant Ventures has teamed with University Health Network (Ted Rogers Centre partner) and the McEwen Centre for Regenerative Medicine to launch BlueRock Therapeutics. One of the largest single investments ever made in a life sciences startup, BlueRock has US$225 million invested before it takes its first step.
The company f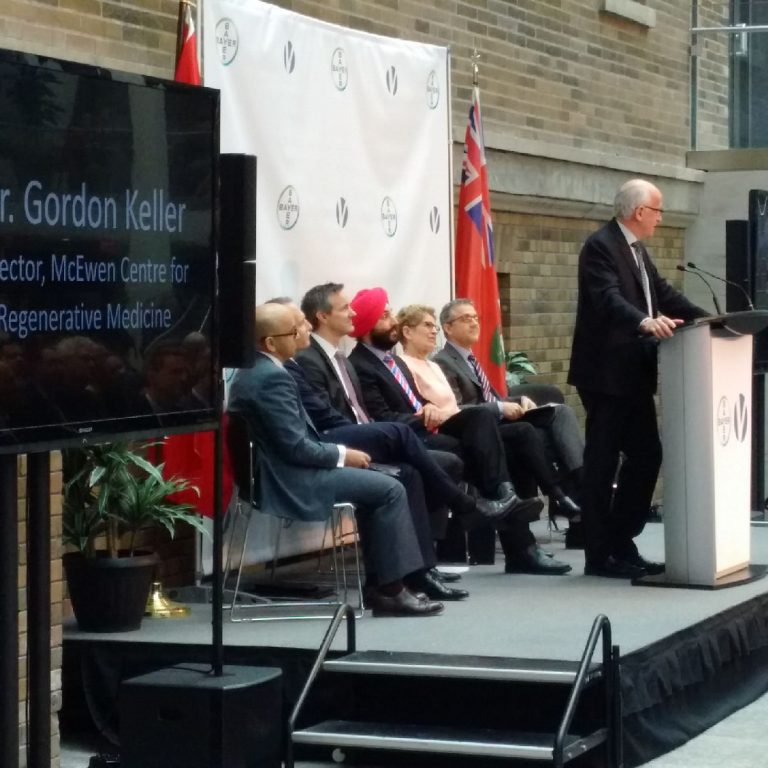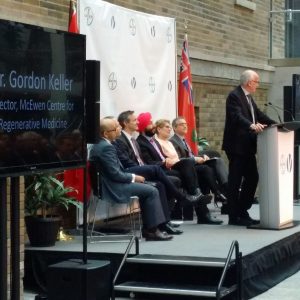 eatures two UHN scientists and close friends of the Ted Rogers Centre: Dr. Gordon Keller, director of the McEwan Centre, and Dr. Michael Laflamme, senior scientist at the Toronto General Hospital Research Institute.
"Canadian scientists are world-renowned for their research into how stem cells can be used to regenerate tissue and heal the body," said The Honourable Navdeep Bains, Minister of Innovation, Science and Economic Development, who was on hand for today's event along with Ontario Premier Kathleen Wynne.
He continued: "This emerging field of medical research has the potential to not only treat disease, but actually cure it."
One of BlueRock's initial programs follows the same mission as that of the Ted Rogers Centre: regenerating heart cells after a heart attack or the development of heart failure. (This is a major focus of the Centre's Translational Biology and Engineering Program as well.) Propelled by Dr. Laflamme's pioneering work in cardiac cell therapy and Dr. Keller's expertise in stem cell biology, BlueRock will aim to restore the electrical and contractile function of injured hearts by remuscularizing the organs with pluripotent stem cell-derived cardiomyocytes.
With many major players now involved in this area, Toronto (and Canada overall) is poised to become a world leader in the commercialization of regenerative medicine. This is a natural fit as, in 1961, Drs. James Till and Ernest McCulloch discovered stem cells while working at the Ontario Cancer Institute/Princess Margaret Hospital.
The Ted Rogers Centre looks forward to continue its close working relationships with Dr. Laflamme and Keller. Through collaborations, we will make tremendous strides to solving the most complex and difficult diseases.