ECHO Webinar: Harry Rowland, Endotronix
June 21 @ 11:00 am

-

12:00 pm

EDT
All are welcome to join an ECHO webinar on Tuesday June 21, 2022 (11 am – 12 pm EST) featuring Dr. Harry Rowland (CEO and Co-founder, Endotronix).
Dr. Rowland's presentation entitled, "Insights from the Endotronix Journey: A PMA Medtech "Startup" Story", will feature an overview of Endotronix, its technologies and the story behind its success. Endotronix is a medical technology company, delivering an integrated platform that provides comprehensive, reimbursable health management innovations for patients suffering from advanced heart failure. Please see attachment for more details.
Register in advance for this webinar: https://us02web.zoom.us/meeting/register/tZwkc-GrqD0sGtcnluN7KLI2wNtAxZ1kYIx9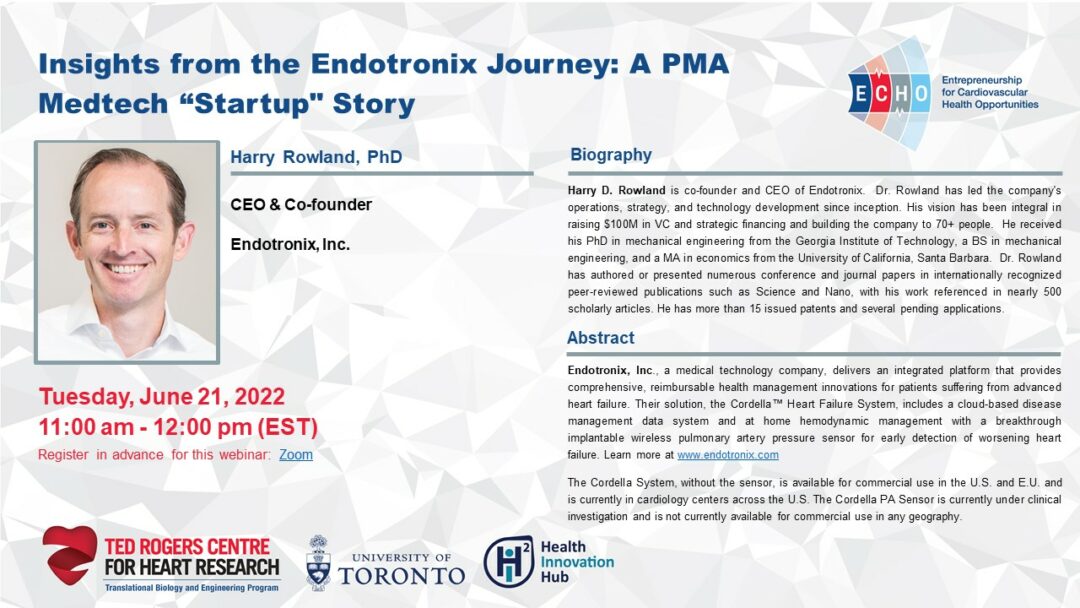 ECHO is an entrepreneurship training program, funded and organized in a partnership between (i) the Translational Biology and Engineering Program (TBEP), the University of Toronto component of the Ted Rogers Centre for Heart Research, and (ii) the Health Innovation Hub (H2i).