A unique new study of Ontario adults with congenital heart disease (CHD) has found that even those with mild congenital heart abnormalities who developed heart failure face worse outcomes than people with heart failure without CHD.
The study shows that Ontarians with CHD and heart failure have higher rates of mortality in the short-term, near-term and long-term and have higher readmission rates to hospital at 30 days and over 10 years. Yet they do not have as many risk factors for heart failure such as hypertension or diabetes.
"This is striking, because we tend to think of milder forms congenital heart disease, which involves more 'simple' lesions, as something that once treated allows patients to continue living their life with minimal long-term effects," says Dr. Wendy Tsang, clinician-scientist at Peter Munk Cardiac Centre and first author of the paper.
"Yet this may not be true. That they develop heart failure with fewer traditional risk factors means there are other changes that we must study further, because it is exposing them to worse outcomes long-term."
The research, now published in ESC: Heart Failure, was funded by the Ted Rogers Centre for Heart Research and Heart & Stroke and performed at University Health Network (UHN) and ICES, formerly the Institute for Clinical Evaluative Sciences.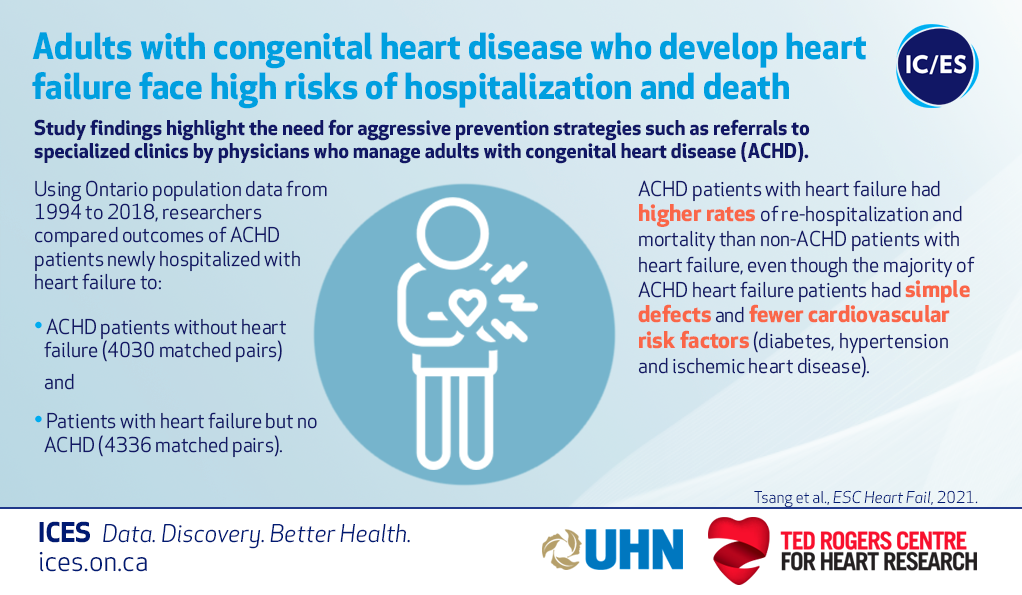 Study suggests closer monitoring required
Because CHD patients living longer today, cases of congestive heart disease are rising, and more general cardiologists and family physicians will be involved in managing their care. Dr. Tsang notes that about eight out of 10 CHD patients aren't being followed by a specialty clinic.
Until now, there has been a major research gap as it relates to what outcomes these patients experience after a hospital admission for heart failure. Little is known about what happens in the years that follow their initial heart failure diagnosis and, consequently, what's triggers their heart failure and poorer outcomes.
"At a system level, the results suggest that adults with congenital heart disease should be monitored more closely, and we should manage cardiovascular risk factors with greater urgency," Dr. Tsang says. "The focus is often on treating the atrial septal defect or bicuspid aortic valve that may be causing leakage or restricting blood flow – but we need to go beyond that to provide comprehensive follow-up by managing cholesterol levels and blood pressure to help prevent hospitalization or even death from heart failure."
Helping an often neglected group of patients
The research team leveraged population health data from across the province to capture all patients in Ontario with CHD – the only way to understand their actual outcomes. In so doing, they took the entire congenital heart disease population in Ontario, and matched those who developed heart failure to those who did not.
"CHD is an often neglected group of patients, and we hope that this study and its findings will shed light on some of the poor outcomes we're seeing in adults with congenital heart disease," says Dr. Douglas Lee, Ted Rogers Chair in Heart Function Outcomes, senior scientist at ICES and lead author.
"It's important for patients to know that if they've had congestive heart disease and experienced heart failure, they must become actively involved in their own care and help ensure their entire health-care team is working in tandem to get the ongoing management they need."
The researchers say the next step is to study people with simple lesions and identify any trends that are leading to adverse outcomes, because not all cases of CHD are the same. Additionally, more studies are needed to uncover early problems that emerge when anyone with the disease – whether simple or complex – develops heart failure.