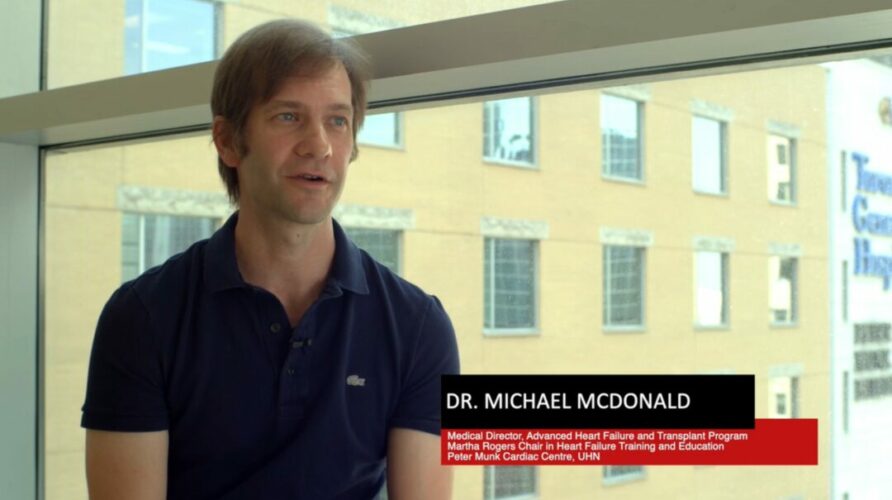 Dr. Michael McDonald, one of Canada's top heart failure specialists and educators, has been selected as the inaugural Martha Rogers Chair in Heart Failure Training and Education at the Ted Rogers Centre for Heart Research following a rigorous international search.
"Mike is a widely recognized expert in knowledge translation and will work to expand our educational footprint by drawing the brightest trainees from around the world, and developing new paths for them to explore the Centre's diverse fields of exploration around heart failure," says Dr. Mansoor Husain, executive director of the Ted Rogers Centre.
At Peter Munk Cardiac Centre at UHN, Dr. McDonald is medical director of both the Ted Rogers Centre of Excellence in Heart Function and the Ajmera Transplant Centre. His clinical efforts focus on advanced heart failure, transplant and implantable device therapy. He currently chairs the Canadian Cardiovascular Society's Heart Failure Guidelines Committee.
A unique commitment and a landmark moment
Dr. McDonald says that the Martha Rogers Chair is a special opportunity to train the next generation of heart failure clinicians and researchers.
"I can't think of another research institute or environment where a chair would be entirely dedicated to education," he says. "This is a unique commitment that I, and many of my colleagues, have not seen anywhere else."
When it comes to clinical fellowships, Dr. McDonald says many cardiac centres in North America can offer strong programs. But very few, if any, offer what this Centre does: the chance to explore a wide range of innovative areas such as genomics, biobanking, biomaterials, artificial intelligence, data-driven health solutions, tissue engineering, and more.
Meanwhile, research trainees have a direct line to both pediatric and adult clinical environments at both SickKids and UHN to enable a deeper understanding of heart failure – an invaluable lens to help devise new research projects that have a true impact on patients.
"The spectrum of skilled areas at the Ted Rogers Centre today are innovative prospects you don't find anywhere else," Dr. McDonald says. "We can attract top talent from around the world and become a global hub for heart failure education."
An unmatched ecosystem for collaborations and learning
Most research enterprises operate in relative silos. But the Ted Rogers Centre purposely meshes diverse programs and professionals – an environment that both enables trainees to obtain skills and knowledge in many disciplines and opens each of those programs to new collaborations generated by those same trainees.
As Martha Rogers Chair, Dr. McDonald will assemble all stakeholders – including patients themselves – to collectively build an ecosystem in which scientists, engineers, clinicians, genomicists and others can create truly unique training streams.
In this way, the Ted Rogers Centre is the hub for education to drive the change needed to best care for the hearts of patients.
"The next generation of trainees will have to think outside the box," Dr. McDonald says. "They will need skills in new areas that will define the future, from precision medicine to AI-driven applications to using biomaterials to repair the heart."
The Martha Rogers Chair in Heart Failure Training & Education is a landmark moment for the Ted Rogers Centre in underpinning training efforts and in supporting the mission of transforming the way we prevent, manage and treat heart failure.
***
Key objectives of this chair include:
Advancing the Heart Function Fellowship program
Attracting high-quality fellows from across Canada and around the world
Supporting fellows in training and academic research
Guiding integrative educational strategies in heart failure at all academic levels
Bridge our community of basic science and clinical trainees at SickKids, UHN and the University of Toronto