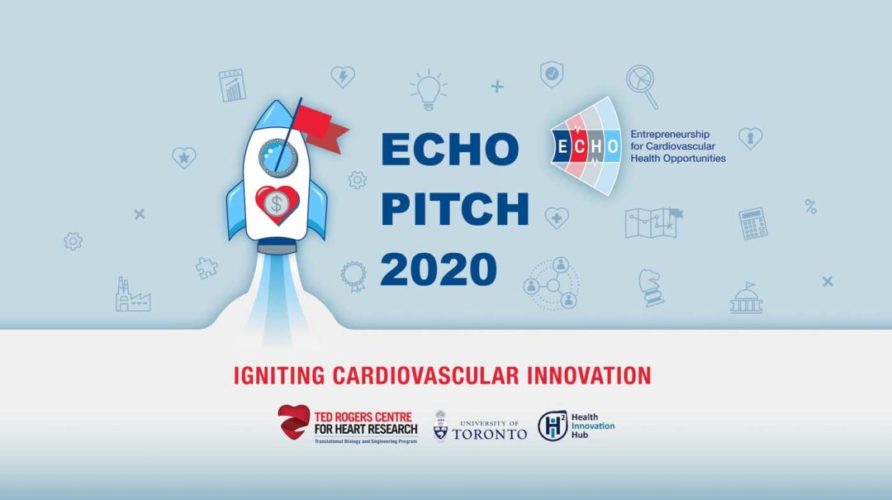 Two teams of cardiovascular innovators, based at University Health Network and St. Michael's Hospital, have earned Ignite startup funding following the second year of the Ted Rogers Centre's Entrepreneurship for Cardiovascular Health Opportunities (ECHO) program.
ECHO is a specialized 12-month program for innovators of cardiovascular technologies, sponsored and delivered by the Centre's Translational Biology and Engineering Program and the University of Toronto's Health Innovation Hub. In two years, it has now provided entrepreneurship training, mentorship, networking to 17 fledgling ventures in an effort to translate bold new ideas in the cardiovascular space.
Each season of ECHO concludes with a pitch competition for up to $250,000 in capital, and Oct. 1st marked the second of these events. In the end, judges* decided that two projects could impact the delivery of care in the near-term, and equally merited strategic funding to accelerate their paths to commercialization.
Winners of ECHO PITCH 2020
Thank you to all ventures that participated in the second year of ECHO, and special congratulations to the co-winners of this year's pitch competition. They are:
Arterial Solutions
(St. Michael's Hospital: Dr. Mohammad Qadura, Muzammil Syed)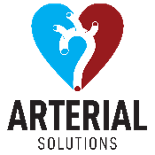 A new blood test by Arterial Solutions to diagnose peripheral arterial disease (PAD) is validated to work in over 650 patients at St. Michael's Hospital. This test has the potential to:
Improve patient quality of life while reducing mortality rates and limb amputations through more timely diagnoses
Support primary care physicians with an accessible, sensitive PAD screening test
Reduce costs associated with current screening assessments and, potentially, the costs of therapy.
"The education, network, expertise, and mentorship that we received in the ECHO program was extraordinary," says Dr. Mohammad Qadura, surgeon-scientist at St. Michael's Hospital. "It's helped transform Arterial Solutions from an idea into a full-fledged venture, and I'd highly recommend the ECHO program to all early-stage cardiovascular companies."
Dr. Qadura says the startup funding will allow them to run a final, multicentre validation study that will be a pivotal step toward commercialization.
BioSenseTex
(UHN: Prof. Azadeh Yadollahi, Nasim Montazeri, Bryan Piper)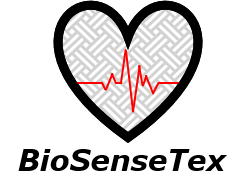 When managing people with heart failure, cardiology teams must frequently monitor fluid retention in their body and lungs – ideally while those patients are at home. To that end, BioSenseTex has developed a sensor – called the Heart Health Cloth (H2C) – that can be embedded in clothing and wearables such as watches and patches. The sensor records and analyzes fluid data, predicting any risk for hospitalization, and securely transfers this data to care teams at the hospital.
This technology allows patients to reduce any worry over emergency trips to the hospital, puts them in greater control over their care, and keeps them safe at home. At the same time, H2C can reduce health-care costs, drop rates of heart failure readmissions, and make the process of drug titration easier.
"ECHO has been an invaluable experience for entrepreneurial information," says Azadeh Yadollahi, scientist at KITE, research arm of the Toronto Rehabilitation Institute. "For our team of clinicians and researchers, this level of business expertise has been extremely helpful to develop a plan for our start-up."
Azadeh says the funding will enable BioSenseTex to clinically validate its technology as the key step toward making it available to clinicians and patients.
---
* The judging panel consisted of:
Steven Arless, BSc, MBA
President & CEO, Consulmed Inc.
Founder & CEO, ViTAA Medical Solutions
Founder, past Chairman & CEO, SoundBite Medical Solutions
Entrepreneur-In-Residence, Centech Mtl
Professor of Practice, McGill University
Jacki Jenuth, PhD
Partner, Lumira Ventures
Allan Miranda, PhD, MBA
Site Head, JLABS @ Canada
Interim Head, JLABS @ TMC
Phyllis Billia PhD, MD
Director of Research, Peter Munk Cardiac Centre
Medical Director, Mechanical Circulatory Support Program
Co-Director, Peter Munk Centre Cardiovascular Biobank
Senior Scientist, Toronto General Hospital Research Institute
Assistant Professor, University of Toronto