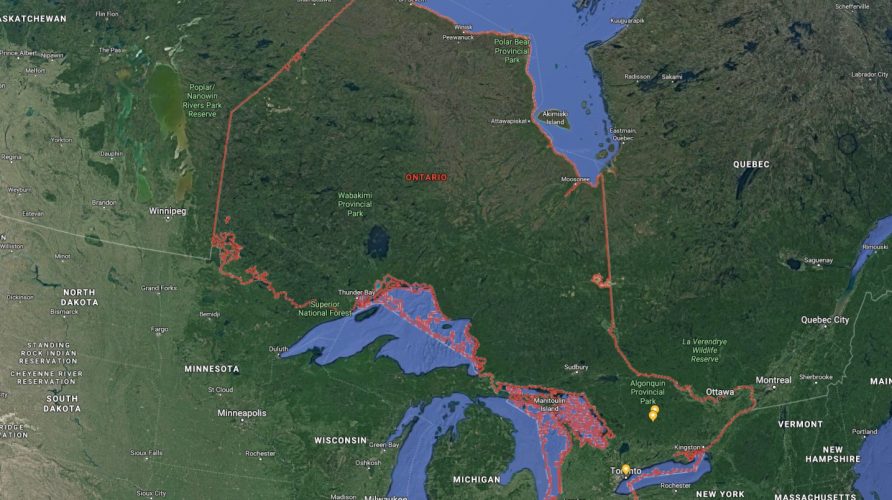 By Emma King, University Health Network
At first glance, the stark differences between northern and southern Ontario can be found in geographical features – small towns to big cities, farmlands to subdivisions.
Yet digging deeper, other differences come to light – particularly in the form of health-care services available to patients. In 2017, Health Quality Ontario issued a report with several key findings on the state of health in northern Ontario. This included a higher rate of years of life lost due to circulatory diseases amongst men and women compared to fellow Ontarians.
With this in mind, Dr. Douglas Lee, Ted Rogers Chair in Heart Function Outcomes and cardiologist at Peter Munk Cardiac Centre, set out with colleagues to see if cardiovascular outcomes differ within hospitals in northern Ontario.
Patient outcomes in northern hospitals
The boundaries between northern and southern Ontario are defined by the location of Local Health Integration Networks, with northwest and northeast regions covering a large land mass and cities such as Thunder Bay and Sudbury.
"Despite a lower population density in northern Ontario, a considerable number of people are hospitalized for cardiovascular disease, which prompted us to examine patient outcomes in northern hospitals," said Dr. Lee, also a U of T professor of medicine and senior scientist at the Institute for Clinical Evaluative Sciences.
Published in March 2019, their study in the Canadian Journal of Cardiology assessed geographic factors influencing the outcome of patients hospitalized for heart disease in the north, most importantly rates of hospital readmissions and mortality.
Rates of readmission stand out
Results found that rates of first admissions in northern hospitals are much higher for heart attacks, heart failure, atrial fibrillation and stroke – as are readmissions at 30 days and one year. Patients are more likely to be admitted sooner and admitted multiple times than patients in southern Ontario.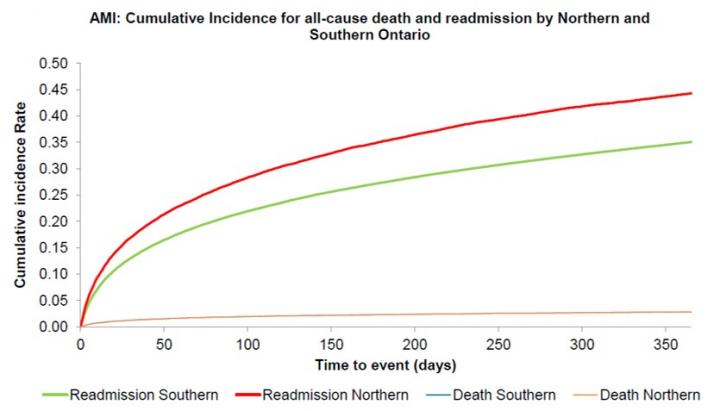 It's well established that repeated hospitalizations among cardiac patients leads to poorer prognoses and higher mortality rates. The study found that in terms of mortality, northern and southern Ontario had comparable 30-day outcomes days for these patients – signaling that there is similar care provided at hospitals regardless of where they are.
The real difference is in the rates of readmission.
"It was observed that access to cardiologists and other specialists was lower in the north," said Dr. Lee. "Access to diagnostic tests was lower in the north as well. If you can't access a specialist or a physician who can follow along and help manage your condition, the chances of readmission could be increased."
Certain questions must be asked
Cardiovascular outcomes among northern Canadians is an emerging focus of UHN, Ted Rogers Centre and Peter Munk Cardiac Centre. In 2015, teams partnered with the Thunder Bay Regional Health Sciences Centre to deliver on-site vascular surgery and help develop a plan to deliver cardiac surgery to patients living in northwest Ontario. The partnership, "one program, two sites", was awarded the recognition of delivering value-based healthcare by the Canadian College of Health Leaders in 2018.
Meanwhile, UHN's Hospital to Home initiative helps foster the early discharge of patients via safe and effective telemonitoring. Funded by the Ted Rogers Centre and led by Dr. Heather Ross, the team established a virtual heart failure clinic in Thunder Bay whose early success has meant an expansion throughout other Northern Ontario communities.
Such efforts are part of potential solutions to improve the rates of readmission in northern communities. Dr. Lee says we must focus on access to specialized care and services, such as telemedicine and cardiac specialists, and also devote studies to patient outcomes for Indigenous persons living in the north.
"Ultimately, close observation by a physician is invaluable," said Dr. Lee. "We focus on what happens in the hospital but sometimes forget to look at why you had to return. How often did you see your family physician who can help manage your condition? Were you able to access a specialist to work alongside your doctor?"
"These are the questions we should ask if we want to improve health care for patients living in northern Ontario."