In December 2008, Ted Rogers Jr. passed away from heart failure, one of the world's great health challenges. This disease affects people of all ages, from newborns to retirees, and is unrivalled in its toll on families and on Canadian hospitals – costing the system over $3 billion each year.
Over 1 million Canadians have heart failure, a rising number. Its causes are many: heart attacks, high blood pressure, heart valve disease, heart defects in babies, obesity, diabetes, kidney disease, genetics, and much more. It can even be caused by treatments against cancer, such as chemotherapy and radiation therapy.
Until recently, doctors had no effective tools to figure out what caused heart failure in their patients. Today, however, there is new hope in the form of breakthroughs in treatment and self-care, targeted medicines, and cutting-edge genetic research.
This is the promise of the Ted Rogers Centre for Heart Research.
Record-setting gift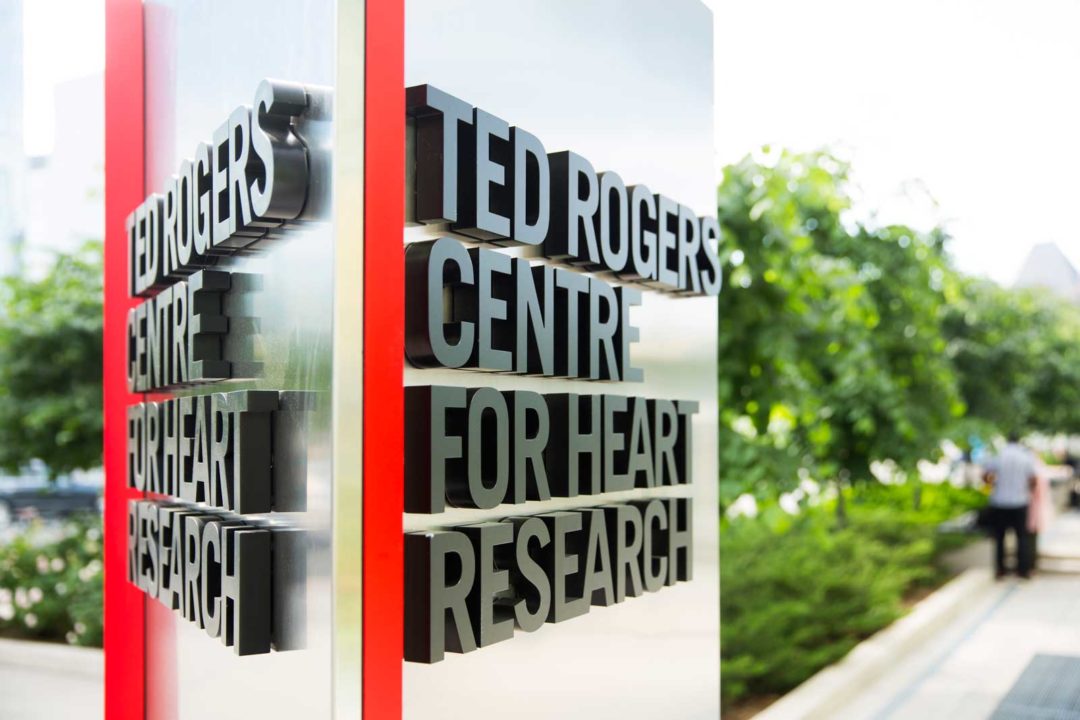 In the spirit of Ted's life as an innovator, optimist and risk-taker, the Rogers family challenged University Health Network (UHN), SickKids, and the University of Toronto (U of T) to do something transformative: truly change the outcomes of heart failure – and help prevent it in the first place.
After consulting leading experts in genomics, bio-engineering and clinical care, the Rogers family delivered a historic $130 million gift to drive science forward. The Ted Rogers Centre was born, inspired to do things differently.
The Centre set out to unite an array of clinicians, scientists, engineers, geneticists and nursing specialists with a wide range of skills and abilities. If we team up, bring our different perspectives to the table, what might we see and do together that we couldn't before?
In November 2014 the Centre launched its bid to fight a complex disease by blending together complex ideas. New strategies would help patients today, while working to better understand heart failure so we may detect it early or prevent it altogether. Our foundation is a multidisciplinary team of innovators that span adult cardiology to pediatrics, bioengineering to genetics, basic science to artificial intelligence.
How the Centre is changing the game
The Centre recognized we must do more than simply improve the quality of life for heart failure patients. We must provide individual care for each person. This will come in three steps:
Provide precise, individually-tailored diagnosis and prevention through whole genome sequencing, biomarker discovery, and medicine targeted to each patient.
Radically improve patient care by using such technology as remote patient monitoring and machine learning algorithms, to keep patients safe at home and to protect others from developing heart failure.
Deliver new, never-before-seen therapies to prevent, diagnose and treat heart failure – including heart muscle repair and regeneration.
The potential to have worldwide impact is now. Consider some of this Centre's early successes:
The world's first tool to predict which children born with thickened hearts are at risk of sudden death.
Canada's largest clinic where cancer patients get special care to ensure chemotherapy is not damaging their hearts.
One health-care worker can now monitor 300 heart failure patients at home through a new app.
Whole genome sequencing for over 1,000 families with heart disease, each person contributing genetic clues to heart failure.
The first patients in Canada to have a wireless device implanted near their heart so nurses can monitor them in real time.
Analyzing immense amounts of data surrounding each patient's life and health in order to spot warning signs that no one doctor could ever see.
A new "calculator" that emergency room doctors can use to predict a heart failure patient's risk of death so they can decide on the best care strategy.
Investing 45 "Education Fund" grants to talented, motivated young scientists who have intriguing ideas but little means to get them off the ground.
A specialized unit where people with heart failure can get much-needed IV therapies without needing to be admitted to hospital.
As for the future…
Imagine a "patch" being planted on a person's damaged heart, repairing and regenerating tissue and making that heart healthy again. Imagine detecting a grandmother's heart problem based on a discovery in the genome of her grandson. Imagine studying if a drug will work by testing it on someone's heart cells grown in a dish, rather than having to test it inside that person. Imagine teaching a heart how to repair itself using the tools it had way back when that person was still a fetus in the womb.
Imagine actually curing heart failure. That is the future of the Ted Rogers Centre.