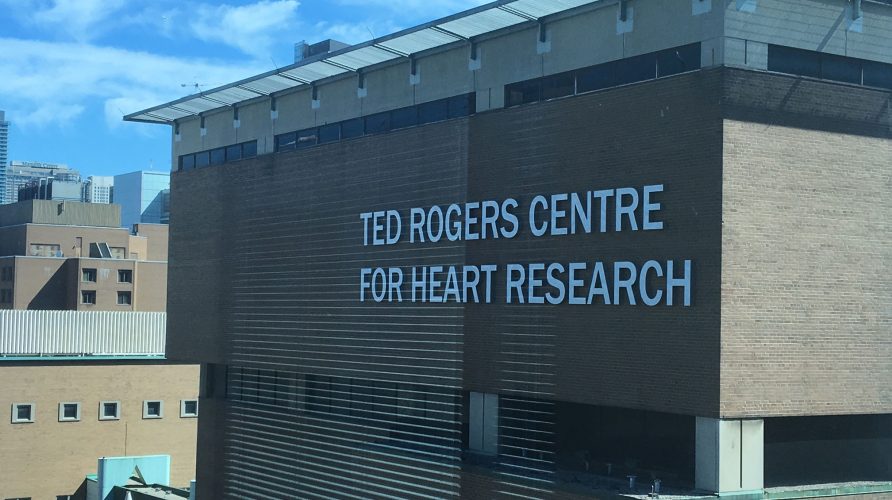 As the annual Canadian Cardiovascular Congress returns to Toronto, the Ted Rogers Centre has organized workshops and a symposium to explore pressing topics in the modern care of patients with heart disease.
For those attending, don't miss two great sessions on Monday, Oct. 22. Dr. Heather Ross and Cedric Manlhiot, who are leading the Ted Rogers Centre's pioneering advances in machine learning and artificial intelligence at Peter Munk Cardiac Centre, are hosting a morning workshop that will illustrate just what health-care practitioners need to know about this emerging field of care.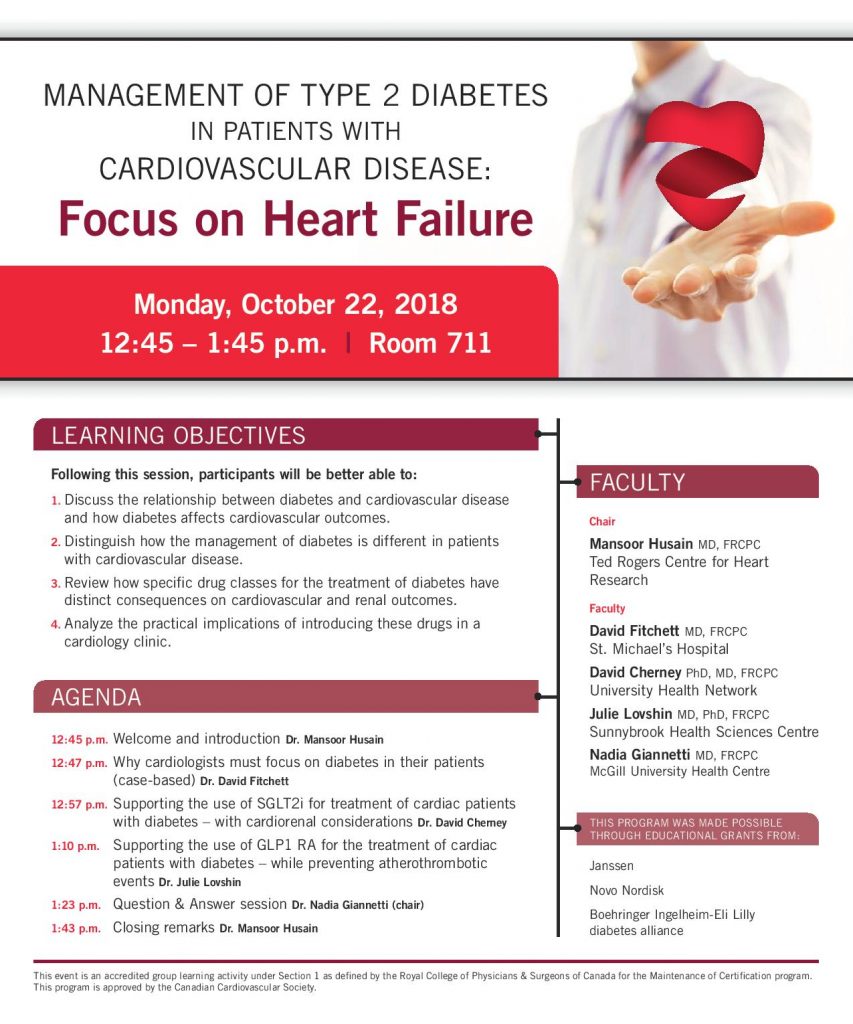 Monday afternoon, the Ted Rogers Centre will host an accredited symposium on the management of type 2 diabetes in patients with heart failure. This session combines leading experts in the fields of cardiology, endocrinology and nephrology to examine the many layers of caring for these patients.
On Tuesday, Oct 23, anyone who wants to know more about incorporating genetic testing in routine cardiovascular care shouldn't miss our workshop led by Ted Rogers Centre executive director Dr. Mansoor Husain, scientific lead Dr. Seema Mital, and genetic counsellor Eriskay Liston (among others).
Here is a broader glimpse of how Ted Rogers Centre members will contribute their expertise to sessions spread across #CCCTO.
Find us at CCC 2018
Saturday, October 20 AM
BENCH TO BEDSIDE MEDICINE: TRANSLATING EVIDENCE INTO CLINICAL PRACTICE
– Includes Dr. Phyllis Billia
CPCA/CACH SYMPOSIUM: CONTROVERSIES IN PEDIATRIC CARDIOLOGY AND ADULT CONGENITAL HEART DISEASE
– Includes Drs. Osami Honjo and Erwin Oechslin
Saturday, October 20 PM
TECHNOLOGIES THAT WILL ALLOW EX VIVO HEART PRESERVATION FOR CARDIAC TRANSPLANTATION
– Includes Dr. Mitesh Badiwala
CCS 2018 HEART FAILURE GUIDELINES: WHAT'S NEW AND WHAT'S ON THE HORIZON?
– Includes Dr. Mike McDonald
CPCA SCIENTIFIC SESSION II: NEURODEVELOPMENT IN CONGENITAL HEART DISEASE
– Includes Drs. Osami Honjo and Mike Seed
CSCS ANNUAL GENERAL MEETING
– Includes Dr. Vivek Rao
Sunday, October 21 AM
DEVELOPMENT OF A PATIENT DECISION AID FOR PATIENTS WHO ARE HIGH RISK CANDIDATES FOR CORONARY ARTERY BYPASS SURGERY
– Includes Dr. Sacha Bhatia
DIFFICULT TOPICS IN HEART FAILURE – "NON-INVASIVE REMOTE PATIENT MONITORING – MYTH OR MAGIC?
– Includes Dr. Heather Ross
Monday, October 22 AM
ARTIFICIAL INTELLIGENCE – CAN IT REALLY IMPROVE THE CARE OF PATIENTS WITH CARDIOVASCULAR DISEASE AND WHAT DO I NEED TO KNOW?
– Includes Dr. Heather Ross, Cedric Manlhiot
ACCESS TO MEDICATIONS – A HEART & STROKE TALK SHOW WITH HOST CHRIS SIMPSON
– Includes Dr. Sacha Bhatia
Monday, October 22 PM
Ted Rogers Centre for Heart Research Presents:
MANAGEMENT OF TYPE 2 DIABETES IN PATIENTS WITH CARDIOVASCULAR DISEASE: FOCUS ON HEART FAILURE
ROLE OF THE NURSE PRACTITIONER IN CARING FOR PATIENTS WITH AN IMPLANTABLE HEMODYNAMIC MONITOR FOR MANAGEMENT OF HEART FAILURE
– Includes Meredith Linghorne and many team members at the Peter Munk Cardiac Centre
AMYLOID TRANSTHYRETIN CARDIOMYOPATHY (ATTR-CM): WHAT IT IS, HOW TO RECOGNIZE IT, AND WHAT CAN BE DONE ABOUT IT (MINI ACCREDITED SYMPOSIUM)
– Includes Dr. Diego Delgado
THE GOOD, THE BAD AND THE UGLY: REVASCULARIZATION AND THE HEART FAILURE PATIENT
– Includes Dr. Vivek Rao
CANADIAN CARDIAC TRANSPLANT NETWORK SPOTLIGHT: 50 YEARS OF TRANSPLANTING HEARTS: FROM THE START TO STATE OF THE ART
– Includes Drs. Heather Ross, Michael McDonald
Tuesday, October 23 AM
DO GENETIC TESTS HAVE A ROLE IN MY CARDIOLOGY PRACTICE?
– Includes Dr. Seema Mital, Dr. Mansoor Husain, Eriskay Liston