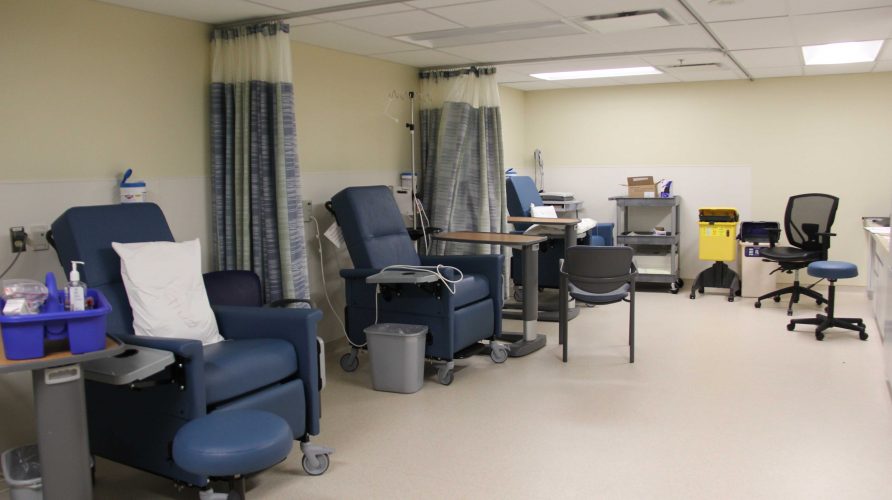 By Isabelle Docto, Ted Rogers Centre communications
For a while, every Tuesday Adrian Neamtu and his wife would visit the fifth floor of the Peter Munk Cardiac Centre in downtown Toronto.
Nestled in the bustling ambulatory cardiac clinics is a relatively new space called the Richard A. G. Robinson Heart Function Day Unit. Here, cardiac patients like Mr. Neamtu receive treatment without waiting hours in the emergency department for a procedure that will generally take a short time.
"The staff is very organized and professional," says Mr. Neamtu, who has lived with heart failure for nearly a decade. "I feel very comfortable here."
This day unit, funded by the Ted Rogers Centre for Heart Research, permits patients to receive therapies as outpatients – and avoid potentially unnecessary visits to the emergency department.
'Suzanne's treatment room'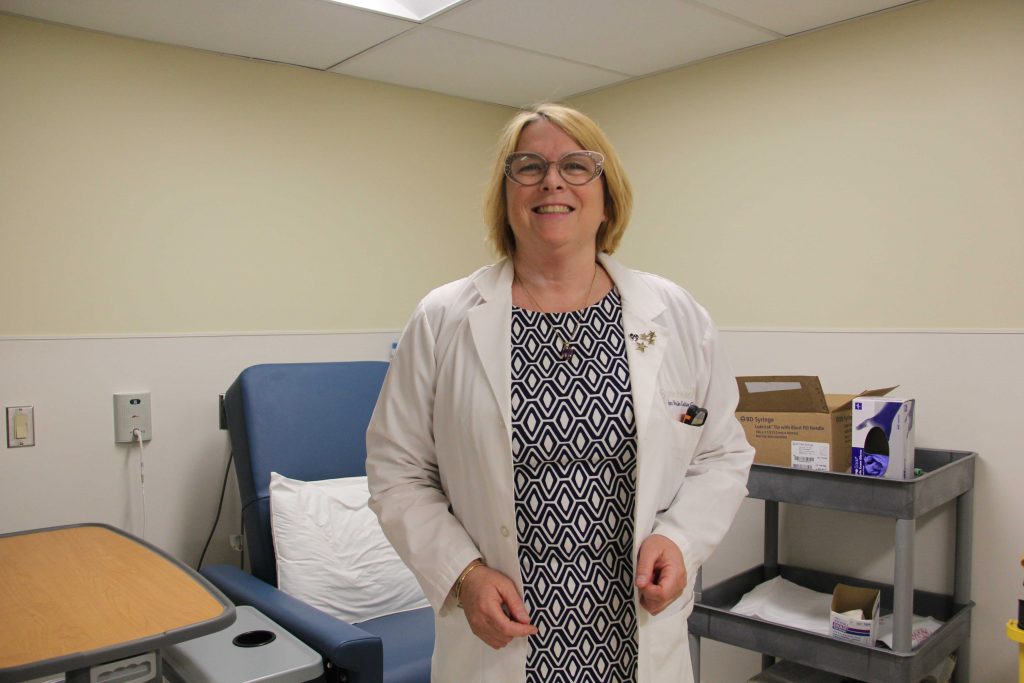 Relaxed in a recliner, Mr. Neamtu waits for a clinician to assess him. On this day, he arrived for his 2 p.m. appointment minutes ago and is already hooked up to an IV. That is courtesy of Suzanne Hemeon, a registered nurse and coordinator of the unit, which her patients affectionately call "Suzanne's treatment room." (She is pictured at left.)
Since the day clinic opened in April 2016, Suzanne has provided about 400 treatments, including IV lasix, iron infusions, blood transfusions and IV fluid replacement for dehydrated patients. She also provides other medications, such as electrolytes and diuretics, in tablet form.
"These endeavors aren't that huge, but they have huge impact on a patient," says Suzanne, who is an important role as liaison between patients and their physicians. "If he doesn't have to spend hours in emergency and gets to go home, that's enormous."
Improving patient self-care
Suzanne ensures that patients are able to leave the day unit confident that they can practise self-care.
"They instruct me very well and tell me what I have to do in a way that's easy for me to understand," says Mr. Neamtu. "Sometimes, we call from home with different questions, and we are pleased with the support."
In a personal touch, Suzanne once developed spreadsheets for a patient who was overwhelmed with the number of prescribed medications. Feeling more empowered as a patient, his visits to the clinic subsided, from once a day to once a week. Hemeon says that overall, he's a happier person.
"It's not just about the medications you give people. It's the personal interactions you have that make them feel safe, secure, loved and happy," she says.
Rising to meet a need
The Ted Rogers Centre funded day unit was always envisioned to be a space dedicated to the day-to-day treatment of cardiology patients, but came from humble beginnings and a small space.
"Patients had to be there for a long time" says Suzanne. "I now have chairs that are comfortable for patients and their family members and there's a bathroom right in the room."
The space can accommodate three or more patients. It also contains equipment for mechanical heart patients that monitors their left ventricular assist device while they're exercising.
This clinic is one element in the Centre's Comprehensive Program in Heart Function, which is intended to optimize patient outcomes, improve patient quality of life, and reduce readmissions to hospital for patients with heart failure.