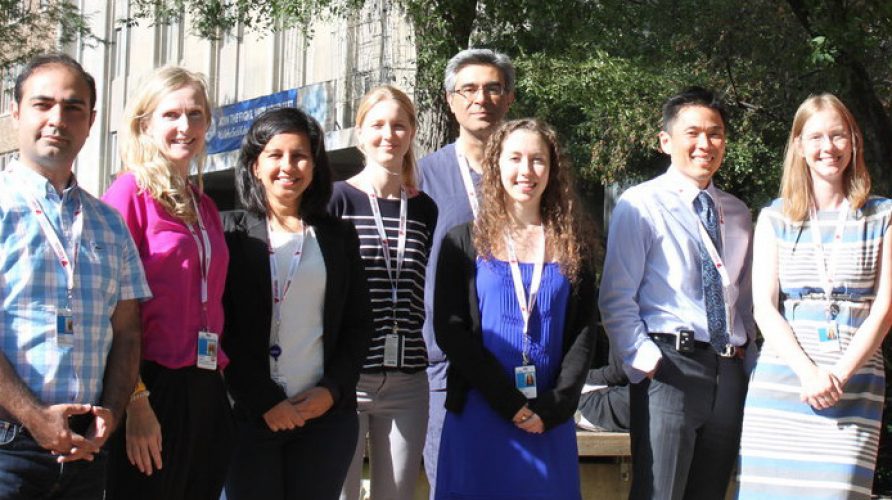 As of August 2017, Dr. Raymond Kim is the newest scientific lead at the Ted Rogers Centre for Heart Research, guiding efforts at the country's only clinic devoted to cardiac genomics.
The Ted Rogers Centre Cardiac Genome Clinic is Canada's first such program to investigate the genetic causes of heart failure in both children and adults. At one of the world's only cardiac genome clinics, researchers use whole genome sequencing to help identify the cause, formulate appropriate treatment options and optimize the management of patients and family members.
"Genomics is a major part of our mission to better understand the nature of heart failure in order to develop novel treatments and preventative strategies," said Dr. Mansoor Husain, executive director of the Ted Rogers Centre. "We are excited to have Raymond on board to build a unique program that is set up to have a very positive impact on heart failure care across the lifespan."
Drs. Kim and Jobling to lead genome clinic
Dr. Kim, one of a handful of dual-trained internal medicine and medical genetics specialists in Toronto, is a rising star in medical genetics. He holds appointments at the Division of Clinical and Metabolic Genetics at SickKids, at the Fred A. Litwin Family Centre in Genetic Medicine that is jointly run by UHN and Mount Sinai Hospital, and at the Princess Margaret Cancer Centre. His research interests include genomic medicine, rare disorder registries and weaving novel genetic technologies into patient care.
Dr. Kim will co-direct the Cardiac Genome Clinic along with fellow medical geneticist Dr. Rebekah Jobling (SickKids), who is medical geneticist in the SickKids Division of Clinical and Metabolic Genetics and molecular geneticist in its Genome Diagnostics Molecular Laboratory.
"The clinic opens up the incredible opportunity for families facing cardiovascular issues to have a team of scientists search for answers in the genome," said Dr. Kim. "Genome testing will gradually become a normalized part of care, and we are at the forefront of this evolution, and are already helping shape best practices in this area. The addition of unique team members like Dr. Jobling makes our team world-class."
Dr. Kim joins three other scientific leads of the Ted Rogers Centre for Heart Research: Dr. Seema Mital, Dr. Heather Ross, and Professor Craig Simmons who are respective experts in genetics, heart failure, and cell and tissue engineering. Together, they are helping direct a vast, collaborative effort to change the lives of Canadians who live with, or are at risk of, heart failure – a costly disease that is a global epidemic.
For more on the efforts of the Cardiac Genome Clinic, read the story "Beyond the Exome" authored by prior scientific lead, Dr. Sarah Bowdin.
***
Photo: Cardiac Genome Clinic from left to right: Roozbeh Manshaei, Eriskay Liston, Reem Khan, Miriam Reuter, Dr. Rajiv Chaturvedi, Meredith Curtis, Dr. Raymond Kim, Dr. Rebekah Jobling. Not pictured: Mohsen Hosseini, Priya Dhir