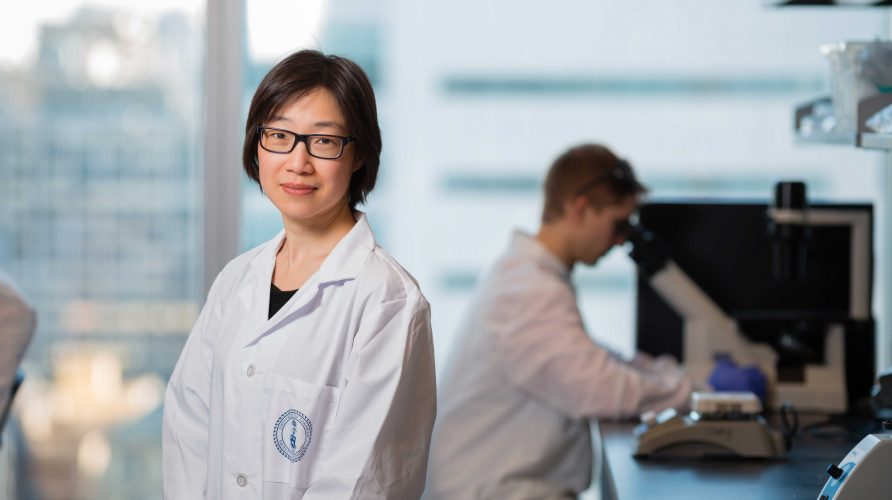 By Luke Ng, U of T IBBME
University of Toronto biomedical engineering researchers have developed a novel method that will help shed new light on the effectiveness of stem cell therapy for heart failure patients.
"Stem cell therapy holds the potential to cure a range of diseases, from cancer to heart failure, but we need a way to effectively monitor how these cells respond in their host environments before going further," said Hai-Ling Margaret Cheng, an assistant professor in the school's Institute of Biomaterials & Biomedical Engineering (IBBME) and electrical & computer engineering. "So we developed a method to observe their long-term behaviour by enhancing magnetic resonance imaging effectiveness."
Despite their great promise, only a small proportion of stem cells are able to survive implantation and start regenerating damaged organs, such as hearts or lungs. The ability to track which stem cells are living and which are dying or where they are located in the body could help scientists adjust therapeutic strategies to maximize their effectiveness in fighting certain diseases.
Last summer, Cheng, an MRI technology expert, approached Ted Rogers Centre for Heart Research (TRCHR) Scientific Lead Craig Simmons with a desire to use her expertise to help advance stem cell therapy research. As investigators in the TRCHR's Translational Biology & Engineering Program, they focused on cardiac regeneration.
New chemical compound proves key
Together with Sadi Loai, an undergraduate summer research student in Cheng's lab, they built on the work of Xiao-an Zhang, a chemistry professor at the University of Toronto Scarborough, whose research group led the development of a unique chemical compound that can be injected into cells as a contract agent and tracked using MRI. While conventional  agents last a few days, their compound is designed specifically to stay within these cells throughout their lifespan.
"This new compound allows researchers to conduct longer-term analysis and monitoring of stem cell therapy effectiveness, such as where they are going in the body or if they are integrating into the appropriate host tissue over time," said Cheng. "This technology gives investigators the power to ask many unanswered questions and potentially overcome existing roadblocks in cardiac regeneration research."
Their contrast agent has already been demonstrated to be able to stay within embryonic stem cells, the precursor of full cardiac cells, and these cells were successfully grown into mature heart cells.
"Our next step is to conduct full toxicology tests on this contrast agent," said Cheng. "Since we've already been able to show normal growth of embryonic cells into tissue, I'm confident that we can take this to human clinical trials in the not-too-distant future."
Their work was published in May 2016 in the Journal of Magnetic Resonance Imaging and Loai was selected among thousands of submitted abstracts at the International Society for Magnetic Resonance in Medicine annual conference in Singapore to present the research.
This story originally appeared here.
Photo: Neil Ta