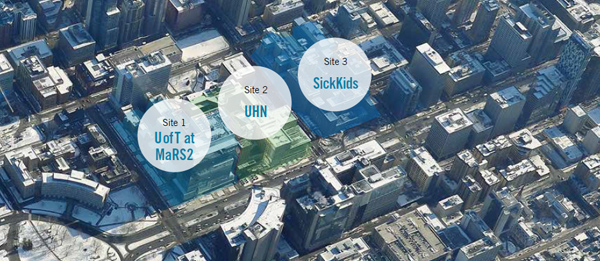 Based in Toronto and born from the largest private health-care gift in Canadian history, the Ted Rogers Centre for Heart Research's core strength are its three world-renowned institutional partners: The Hospital for Sick Children (SickKids), University Health Network (UHN), and the University of Toronto (U of T). There, interconnected programs aim to address heart failure across the lifespan:
Precision Medicine and Cardiac Genome Clinic applies novel biology-driven approaches to finding new therapies for childhood onset heart failure and will support one-of-a-kind adult and pediatric genome clinics intended to decipher the genetic basis of heart failure in patients with congenital heart disease and cardiomyopathies.
Integrated Program for Excellence in Heart Function will optimize heart failure outcomes, improve quality of life and reduce readmission to hospital. The goal: reduce re-hospitalizations by 50% in 10 years.
Translational Biology and Engineering Program examines how genes, molecules and cells function during cardiovascular development and disease. In the lab, we are set to uncover strategies to repair, regenerate or replace heart tissues.
The Centre is unique and ambitious – a fitting legacy for its namesake, a man known for visionary leadership and creativity, and a Canadian family synonymous with innovation and progress.
History
In November 2014 the Ted Rogers Centre for Heart Research formed, enabled by an unprecedented gift of $130 million from the Rogers family and jointly conceived by SickKids, UHN and U of T. With their matching commitments ($139 million), the Centre represented a $270 million investment in basic science, translational and clinical research, innovation, and education in regenerative medicine, genomics, and clinical care of pediatric and adult heart disease.
"There are always lots of opportunities if you persevere and aren't afraid to take chances," Ted Rogers once said. "But the important thing is that you have to work very hard and take risks."
The visionary who created one of Canada's most successful companies – Rogers Communications Inc. – was an innovator who understood that bold visions could transform the world. In his later years, Ted was diagnosed with a heart condition that eventually led to congestive heart failure. He passed away in 2008, at the age of 75, not before understanding that extraordinary advances could be made in heart health, with the right expertise, passion and tools. His family, and three leading institutions along Toronto's University Avenue, have brought that vision to life.
For more information on our history, see The Gift.