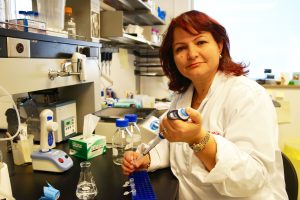 The Ted Rogers Centre for Heart Research is built on collaboration between institutions and scientific experts in distinct fields. The key to our mission is developing novel research ideas that blend expertise from different disciplines. Using this approach, we can discover how investigators work in parallel to develop new solutions to the complex disease of heart failure.
One way we achieve this is through a special fund.
Innovation Fund
The Centre's Innovation Fund guides the discovery and development of novel therapies and approaches to treating heart failure. Fund awards include seed grants of up to $200,000 over two years and larger, strategic awards of up to $1 million over three years.
The Centre announced its first seed grant awardees in May 2016: click here to see the winning projects.
Visit the Innovation Fund page for more information.
Areas of Focus
The Centre works in the following areas with heart failure as the ultimate focus:
Translational genomics
Cardiac genetics
Cardiac health technology
Heart function outcomes
Heart function systems biology
Congenital heart disease
Regenerative medicine
Immunology
Bioengineering
Cardiac tissues and cellular systems
We welcome any innovative ideas and opportunities for collaboration that supports our mission, both in Canada and around the world. If you see a home for your idea within our pillars of expertise, please reach out to us.
Tell us about yourself, your research pursuits, and how we can work together to transform the care of adults and children with heart failure.
Write to: communications@trchr.ca